I know, I know. It's Tuesday. I'm doing my best . . . here's my continuing Multitude "Monday" post which is part of a series started years ago on
Ann's blog
, which is a favorite of mine. If you've never checked it out, do yourself a favor and click on over. She's an amazing, gifted writer, a wonderful friend and an inspiration to so many (not to mention a mother of 6)!
"One Thousand Gifts"::
3769. Dropping Jacob and a friend off at school BEFORE 7 so that they can go to Bible study before school. Watching them walk into school together to study God's word does my heart good. I can hardly stand it! Love those "kids"!
3770. A high school girl (who helps lead the Bible Study mentioned above) who I am friends with who texted to tell me
she's
been praying for
me
. How great is that?!
3771. before school hugs and prayers with my kiddos
3772. clean little girls :: post-bath
3773. ECFE mornings with Sara
3774. free bagel day at Brueggers . . . yum!
3775. Sara's funny conversations
3776. rocking sweet Casper to sleep. (oh how I love fresh little babes! . . . but he's getting SO big!)
3777. teeny tiny diapers
3778. our church family
3779. having family friends (and their 5 kids) over for dinner . . . wonderful fellowship (and lots of noise!)
3780. good kids at the dentist appointment
3781. baby shower at church :: all those tiny baby things!
3782. outside run with Kirb (it's a sad commentary that 12 degrees feels so warm!)
3783. watching Joe swim at state
3784. one-on-one time with Joe between events :: just the 2 of us. that'a a rarity!
3785. When we arrived at the state swim meet (big deal at one of the nicest aquatics centers in the country) I told Joe what I was praying for for him (that he'd do his best, have fun and not be nervous) he said "that's exactly what I was just praying for in the van". So good for my momma heart!
3786. really nice service for
Jenn's grandpa
3787. LJ's honors chorus concert :: what talented 6th graders! They sounded fabulous!
3788. NOT missing the bus (thank you bus driver who waited -- blocking traffic on Lexington in both directions -- as my kids RAN down the sidewalk)
3789. beauty of the morning sky
3790. carpools
3791. a blanket and a (REALLY) good book
3792. before school Bible study at the high school
3793. Rebekah making a fabulous, yummy, pulled-out-all-the-stops dinner for our family
3794. Anna "reading" me the Bible before bed.
3795. a new volunteer "job" coaching for
Mom's on the Run
3796. Sara playing with all her Little People . . . she's so imaginative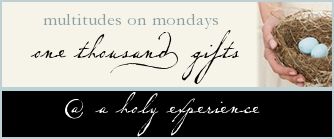 May you realize all the blessings the Lord brings your way and take the time to make note of them. (you'll be glad that you did!)