Here's my continuing Multitude "Monday" post which is part of a series started years ago on
Ann's blog
, which is a favorite of mine. If you've never checked it out, do yourself a favor and click on over. She's an amazing, gifted writer, a wonderful friend and an inspiration to so many (not to mention a mother of 6)!
"One Thousand Gifts"::
3833. Melting :: the sights and sounds
3834. forgiveness
3835. a clean microwave
3836. temps in the 40's with sun!
3837. a visit from Brie
3838. fresh snow stuck on everything :: SO beautiful! (can you spot the cross in our yard? Joey built that -- with a little help -- it was all his idea.)
3839. a major snow storm and no need to leave the house (our first legitimate SNOW day after 5 days of no school due to extreme cold so far this winter)
3840. Kirby's hard work for our family
3841. the boys watching Olympic hockey at the Hansen's on their snow day
3842. safe driving on nasty roads
3843. crafting with Kaaren
3844. book club night :: can't wait!
3845. neighbor family that shovels out the entire block :: we have the most fabulous neighbors! who does that these days, anyway? not too many people, I imagine!
3846. time with friends
3847.
Qwirkle
and LOTS of laughter
3848. packing meals for people in Rwanda on a Saturday morning with my parents and the Newmans :: 3 generations volunteering together.
3849. going to Sam's basketball game (and as a bonus, they won!)
3850. going for a run, despite the cold :: I always feel better once I've been running, even if it isn't so fun to actually be doing it (the HAVE DONE feeling is good, even when the DOING is tough!)
3851. lunch at my Grandma's
3852. the funny things Sara says
3853. real mail :: going out and coming in
3854. the library
3855. thoughts of summer :: kids all registered for camp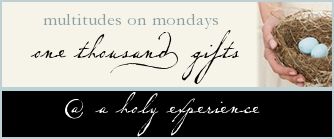 May you realize all the blessings the Lord brings your way and take the time to make note of them. (you'll be glad that you did!)