It's been nearly a month since my last Multitude Monday post. Where on earth did March go? I'm glad to have moved on to April, though, and to finally see signs that spring is here to stay! So, without further ado, here is my continuing Multitude Monday post which is part of a series started years ago on
Ann's blog
, which is a favorite of mine. If you've never checked it out, do yourself a favor and click on over. She's an amazing, gifted writer, a wonderful friend and an inspiration to so many (not to mention a mother of 6)!
This will be a "best of" list from the past month, since there are about 80 of them.
"One Thousand Gifts"::
3901. Face Time
3904. hugs
3906. the beauty of mountains
3909. running outside without dodging puddles or watching out for ice
3910. Kirbs' laughter
3911. seeing first-hand how fabulous my husband is at his job. So proud!
3912. eating breakfast OUTSIDE
3913. naturally-sourced vitamin D! (yay for California sunshine on the skin of a Minnesota girl in March)
3916. hanging out and laughing with Jen
3920. fabulous people watching
3922. a good book for the plane ride
3923. safe travels
3925. life-long friendships
3926. being home again!
3927. hugging my kids again after being away from them for a week
3928. waking up and hearing the sound of Joe reading books to Anna
3929. sleeping in my own bed
3930. tax return automatically deposited in our checking account
3931. feeling full to almost bursting with love for my family and my life and gratitude to God for it all
3932. my parents and ALL they did so we could get away
3934. running in my own, familiar neighborhood
3936. 15 years of Jacob!
3937. Rebekah a teenager!
3939. introducing my grandma to the game of Spinners
3940. Sara saying "I love you, Marjorie." to my grandma -- I think it's so funny when she uses adults first names (that sometimes I didn't even know she knew!) instead of their other name (mom, dad, grandma, grandmpa, ama, bopbop, GG). She does it every once in a while and it cracks me up every time.
3941. Rebekah baking her own birthday cake
3945. all the people who took the time to tell me how great the kids did playing in church the Sunday we were out of town
3946. Jacob playing his trumpet accompanied by his GREAT grandma -- pretty rare and pretty special. It goes my heart good!
3949. Rebekah playing "I Love to Tell the Story" on the piano while I work
3950. surprise 40th birthday get-together for a friend -- seeing friends I don't get a chance to see very often
3953. my favorite green chai (the our local grocery store stopped carrying) from my mom (she found some online!)
3958. Our REI dividend!
3961. 6 years of Anna!
3962. our church
3964. 14 glorious miles run over the weekend
3965. snuggling my nephew :: 4-month-olds have the best, huge, toothless smiles
3966. dinner at my parents house
3967. fabulous finds at Goodwill (and a sale to boot!)
3969. Macy's flower show with the littles, my mom and my grandma (4 generations enjoying spring-like flowers inside while the outside was FAR from spring-like!)
stop and smell the hyacinth
Sara wasn't cooperating for pictures!
Anna has lost 2 teeth since this picture was taken less than a week ago!
beautiful
me and my silly little girls
my beautiful grandma
what's a flower show without some candy treats?
GG, Ama and Anna
3970. weeknight sleepover for Sara (makes the morning SO MUCH easier)
3972. one-on-one date with Sara
enjoying a ride at MOA
3973. attending a 100th birthday party (you don't get many chances to do that!)
3975. REALLY dirty kids after playing outside (ahhh, the "joys" of spring)
3977. coffee ice cream
3978. running in capris and a tank top (it's been a long time since I ran sleeveless!)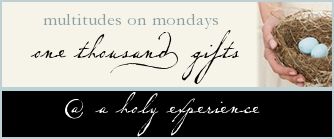 May you realize all the blessings the Lord brings your way and take the time to make note of them. (you'll be glad that you did!)